At the September 7, 2021, 7:00 pm, Fairborn Art Association (FAA) meeting, members and guests will enjoy a wonderful talk by art expert, Nita Leland. Her artist's statement on her web site states, "The changing light of day and the moods it creates are the foundations of my watercolors. My paintings usually start with a color idea, then evolve into compositions in which color is the primary subject. To me, art is a synthesis of my personal feelings, the subject or colors that inspire me and my materials and techniques. Serenity and simplicity are my primary goals. My goal as a teacher and author is to help other artists achieve their goals. My primary focus is on my students, providing a fun and comfortable environment where they can advance their individual creative skills within an energetic community of artists."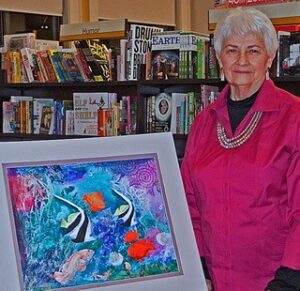 Color and its interaction and beauty emanates from of all of Leland's art. But it's not just the magnificent use of color on paper that impresses viewers of her art; we are also inspired by her very colorful and interesting life.
Smack in the middle of the carpool years, Nita was a frazzled housewife with four kids. Her husband Bob decided she needed a hobby and gave her a set of watercolors. Every attempt to teach herself ended in disaster. When she enrolled in a YMCA class, she became obsessed with watercolor.
Trapped in a tug-of-war between her family and an art career, Nita invented strategies to balance her life and triumphed over a multitude of domestic conflicts, gender bias, and lingering self-doubt to emerge as a professional watercolor and collage artist, international workshop instructor, and author.
Nita's books and talks reflect with directness and humor how one woman successfully turned challenges into opportunities and fulfilled her life's purpose as a teacher.
Come join us as members of the Fairborn Art Association hear wonderful stories of one of our own members. Leland will present a collage demo and book talk about her recently released memoir, Born Creative: Paint, Passion & Purpose. One member, who attended a recent talk by Nita Leland at the Centerville Library, said of her book and talk, "Nita Leland is the artists' equivalent of Erma Bombeck." Since 1985, she has written several best-selling art-instruction books on color, creativity, and collage/mixed media. Revised editions and translations of her books and DVDs are still in print, along with early YouTube watercolor lessons.
Signed copies of Nita's books will be available at a special price at this event.
The Fairborn Art Association is located at the rear entrance of the Fairborn Central Building, 221 North Central Ave., Fairborn. Parking and entrance are located around and behind the former school building, now senior housing.
…Submitted by James M. Gifford, Publicity Chair, FAA