PRESIDENT'S MESSAGE
Happy New Year!
I hope you all had a happy, healthy holiday, despite all the sickness that surrounds us. Even with the debilitating weather, we had a wonderful time with our family, with great food and fellowship. As for 2023, I have decided to challenge myself to step outside my comfort zone and attempt to expand my horizons in the art world. On Saturday, January 7, I gave an art demonstration at the Beavercreek Library, where I painted one of my snowman slates. I was somewhat nervous but it turned out to be a fun, rewarding experience. I enjoyed interacting with the adults and kids who attended and hope to maybe do it again later this year. The second challenge will be in February when I display my artwork at the Lofino Gallery in Beavercreek. Once again, I am nervous but I am powering through, as they say. The reception will be held on Thursday, February 2, from 5:00–7:00 pm, if anyone would like to attend. None of this would have happened if it weren't for all the encouragement and support I've received from all my friends in FAA… I can't thank you enough!!!
I'm looking forward to our next FAA meeting, Tuesday, February 7, at 7:00 pm, where Dr. Hyacinth Paul will be our guest speaker. I looked online at her work and found her acrylics lively and colorful so it should be a very interesting evening.
Our spring and summer seasons will be here before we know it, with lots of activities including our senior scholarships, Members show, May workshop with Keiko Tanabe, BW Greenway show, June social, Sweet Corn Festival, and more, so be sure to keep abreast of everything through our newsletter, which is superbly put together by our corresponding secretary, April Coppess… kudos, April!
I don't know if I've mentioned this before, but we need someone to take over the reins of the Sweet Corn Festival. All kidding aside, our dear Warren Brown has turned an impressive 80 years young and is willing to train someone to coordinate this important cog of our organization. Please contact me or anyone on the board if you are interested. There will be other job openings that will be announced at a later date.
Below are a few photos from the demo at the library, and with that I will sign off. Until we meet in February, keep creating!
Linda Brandenburg, President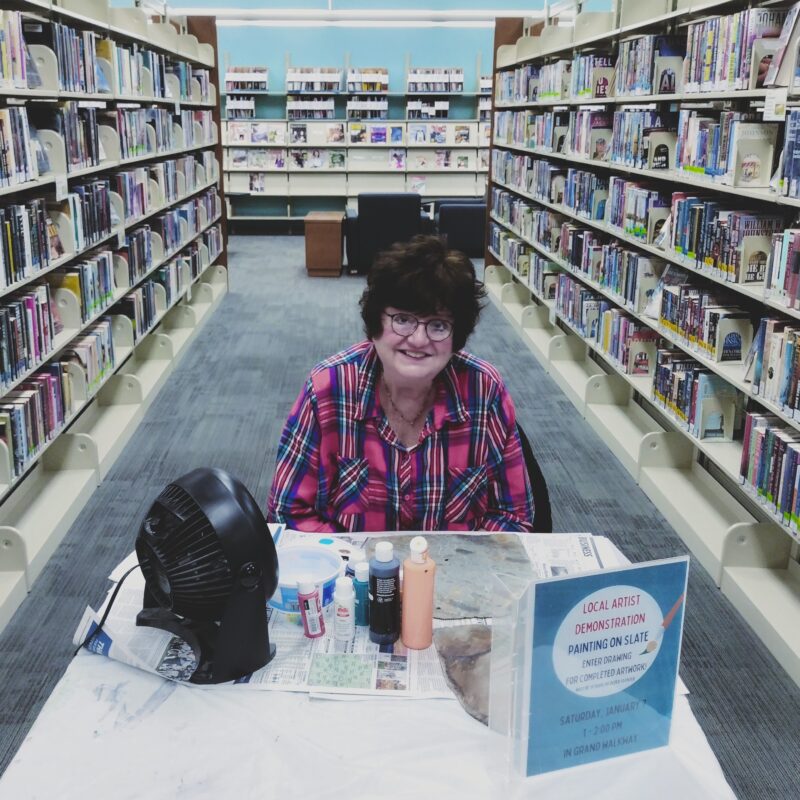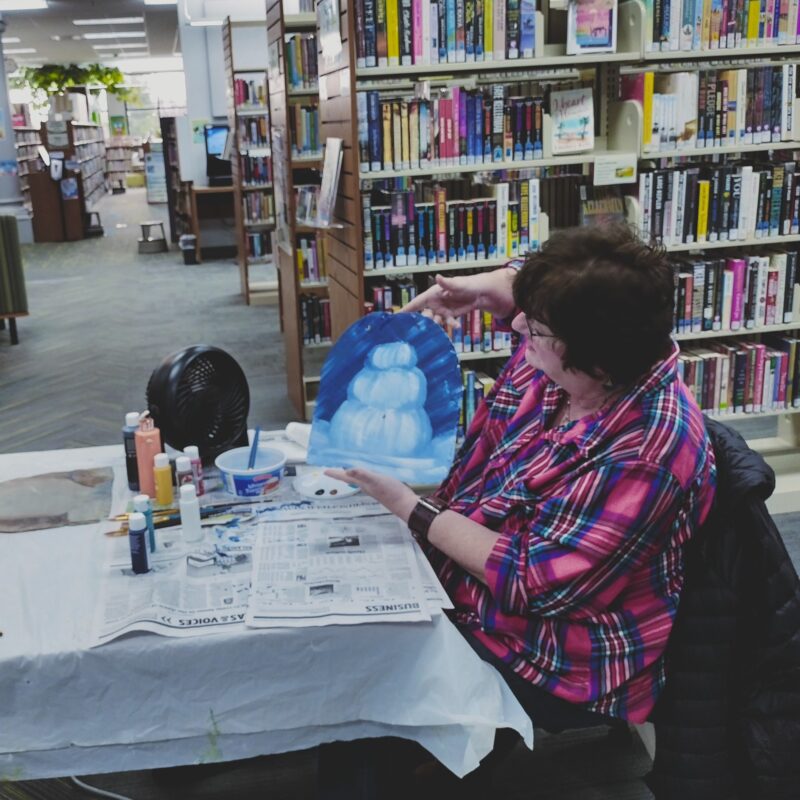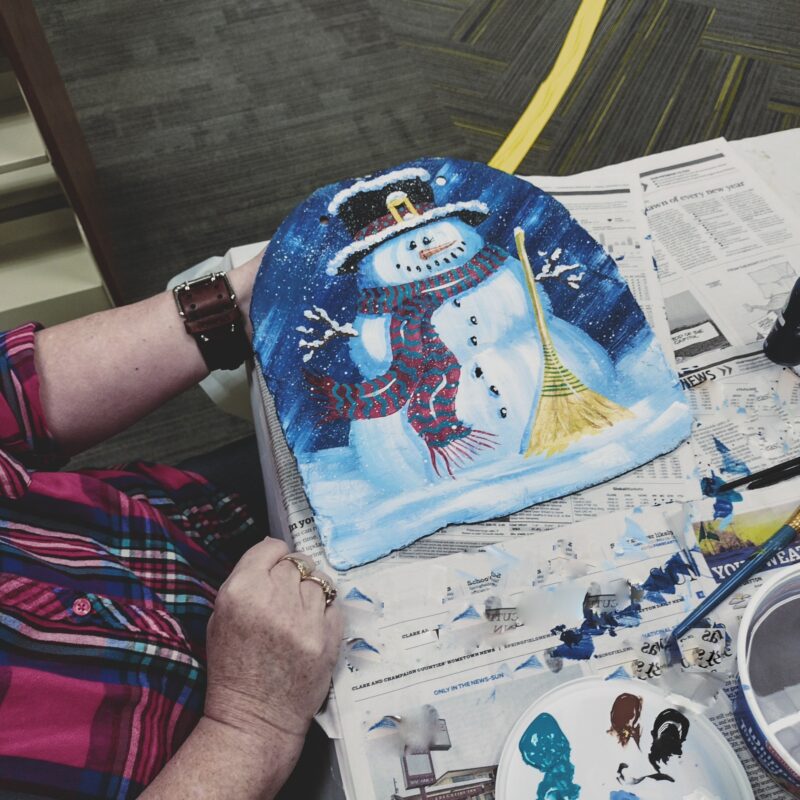 FAA DEMO ARTISTS AND WORKSHOPS 2023
February 7 Dr. Hyacinth Paul, acrylic
March 7 Trish McKinney, mixed media
April 4 Louise Jackson, watercolor
May 2 Keiko Tanabe, watercolor (Workshop May 1–3)
June 6 Social
July No meeting
August No meeting
September 5 TBD
October 3 Workshop, Alicia Ferris
November 7 Sarah Maxwell, watercolor
December 5 Christmas Party
FEBRUARY'S FEATURED ARTIST
We are pleased to announce that Dr. Hyacinth Paul will be our guest demo artist at Fairborn Art Association on February 7.
Dr. Paul is a retired scientist and Professor who later began her artist career in oil, acrylic and mixed media. She shows her work at Front Street gallery, Ed Dixon gallery and online. She recently completed a grant to study Plein Aire painting at Provence and Barcelona in 2022.
Color speaks to her in her works as she believes it sparks synesthesia and evokes feelings of joy. Her mission is to encourage businesses to buy original art, and, promoting the benefit of art in mental health and well-being.
MEMBER NEWS
FAA MEMBERS IN ROSEWOOD GALLERY EXHIBITION
The following FAA members were among those chosen to participate in the Rosewood Gallery 33rd annual Works on Paper juried exhibition: Lisa Becker, Nancy Dankof, Billie Dickson, Connie Gifford, Yuki Hall, Pat Higgins and Brendan Higgins. A total of 202 pieces were submitted by 72 artists who live within a 40-mile radius of Dayton, Ohio. The juror, Michael Roediger, selected 52 pieces representing 38 artists for the exhibition. The exhibition, which is free and open to the public, runs through February 25, 2023 at Rosewood Gallery in the Rosewood Arts Center, 2655 Olson Drive in Kettering. For more information, call (937) 296-0294 or visit their website.
CLARICE MOORE IN CHICAGO EXHIBIT
Clarice Moore delivered her painting titled "Ascension of Souls" to the Museum of Science and Industry in Chicago for an exhibit called "Black Creativity." The exhibit runs from January 16 to April 23, 2023.
SHIRLEE BAUER WATERCOLOR DEMO AT BEAVERCREEK LIBRARY
Shirlee Bauer will be creating a winter watercolor painting at the Beavercreek Library on February 4 at 1:00 pm. There will be a drawing for the completed artwork. Visit the Beavercreek Library at 3618 Dayton-Xenia Road, Beavercreek, Ohio 45432.
LINDA BRANDENBURG IN LOFINO GALLERY EXHIBITION IN FEBRUARY
Linda Brandenburg will be exhibiting a show in watercolors and pen and inks during the month of February at the Lofino Gallery located in the Beavercreek Senior Center, 3868 Dayton-Xenia Road, Beavercreek, Ohio during regular gallery hours. There will be a reception on Thursday, February 2, from 5:00 to 7:00 pm.
CONNIE S. GIFFORD IN LOFINO GALLERY EXHIBITION IN MARCH
Connie S. Gifford will have an art exhibition at the Beavercreek Lofino Art Gallery the entire month of March 2023. Connie has participated in shared exhibits at this location, but this will be her first solo exhibition of her watercolors paintings. The Gallery at Lofino Plaza is located inside the Beavercreek Senior Center, 3868 Dayton Xenia Rd, Beavercreek, OH 45432. The Gallery hours are 9:00 am to 7:00 pm Monday through Thursday, 9:00 am to 4:00 pm Fridays and 9:00 am to Noon Saturdays. There will be an artist reception TBD and is free and open to the public.
CELEBRATING 60 YEARS TOGETHER
Congratulations to Patricia Dunker and her husband, Kirk, who celebrated their 60th wedding anniversary on December 30, 2022! Kirk had a 20 year career in the military while Pat continued her education and became a CPA and an accomplished artist.
CALL FOR ENTRIES – 2023 GREENE COUNTY SENIOR ARTISAN SHOW
The Greene County Council on Aging and the Fairborn Art Association invite Greene County residents who are 60 years of age or older to enter the 2023 Senior Artisan Show. The artwork must be original, created after the artist turned 60, framed and ready to hang. Contact GCCOA for the entry packet. All entries are to be dropped off on March 3 between 11:00 am and 1:00 pm at the Fairborn Art Association Gallery, 221 North Central Avenue, with showings at the Gallery as follows: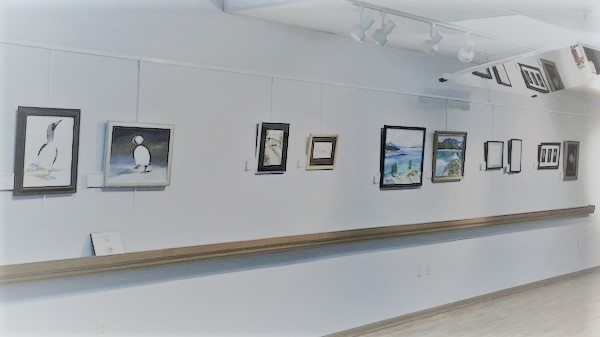 Sunday, March 12 1:00–3:30 pm Grand Opening
Sunday, March 19 1:00–3:30 pm
Wednesday, March 22 11:00 am–2:00 pm
Virtual Show March 13–24
For information, call 937-376-5486 or visit gccoa.org .
MAY 2023 WORKSHOP WITH KEIKO TANABE
Coming in May 2023 is a wonderful watercolor workshop with well-known artist Keiko Tanabe as the instructor. Keiko was born in Kyoto, Japan. As a child growing up in an art-loving family, she always enjoyed drawing and painting and won many awards in children's art contests. However, art was not her chosen field of study later on. She earned a B.A. in intercultural communication (International Christian University, Tokyo, Japan) and an M.A. in international education (UCLA, California). She then worked in international relations positions in a Japanese government trade organization in Tokyo, at a large law firm in San Francisco and at a private consulting firm in San Diego. For decades, she has traveled extensively, mainly in European countries, Asia and North America.
Through all these years, Keiko knew there was in her heart the growing desire to someday become an artist. That, fueled by her love of travel and strong interest in other cultures, eventually found its way out in 2003. After learning basic drawing and watercolor painting skills at a local community school in San Diego, she took on her first project as an artist together with her father, a renowned scholar of French literature in Japan. Through the Azure Sea and Sky of Provence: A Tribute to Her Joie de Vivre (Kosei Publishing, Osaka, Japan) was published in August, 2003, authored by her father and illustrated by Keiko. From then on, she intensely taught herself to be fluent in watercolor painting, just as one would do to master a foreign language.
Mostly self-taught, Keiko embarked on a professional art career in 2005 and started exhibiting publicly. In the same year she took a workshop from Alvaro Castagnet and discovered the joy of plein-air painting. Since that year her paintings have been juried into many exhibitions across Americas and in Asia and Europe. Her work has been purchased by private and corporate collectors from all around the world. She also had her paintings published in leading art magazines in the U.S., Europe and Japan. Additionally, she self-publishes her art books and nine books have been completed to date. She's also a sought-after workshop instructor. Since 2011, she has been invited to and completed successfully more than 400 workshops and numerous live demonstrations around the world. She has served as a juror in a number of art exhibitions including some major watercolor shows around the world such as the Transparent Watercolor Society of America, the International Watercolour Masters, the Northwest Watercolor Society, the Utah Watercolor Society and the New Mexico Watercolor Society. In 2015 she was named an official Ambassador for Winsor & Newton. In 2018, she was appointed to the advisory board of the American Watercolor Weekly. In 2018 and 2019, she was invited to be a faculty member for the Plein Air Convention & Expo, the world's largest plein-air painting event. Keiko currently lives in San Diego, California.
The registration form for the May 2023 Workshop is available in the Gallery and as an attachment in December's newsletter.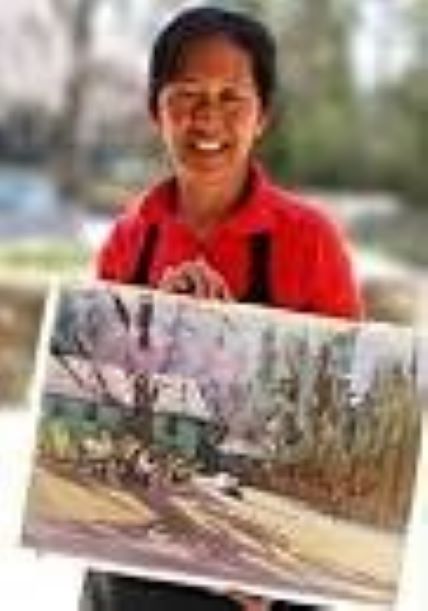 B-W GREENWAY COMMUNITY LAND TRUST & THE FAIRBORN ART ASSOCIATION'S
LANDSCAPE 2023 JURIED ART COMPETITION IS UNDERWAY
The B-W Greenway Community Land Trust & the Fairborn Art Association's Landscape 2023 juried art competition is underway. The competition has been held for the past 11 years to use art to heighten public awareness of the importance of preserving local greenspaces.
Annually, a different preserved greenspace is selected to be an inspirational site for artists. The 2023 locations are the Hebble Creek Reserve and Fairborn Community Park Reserve.
The juried competition is open to all artists 16 years and older, living within 200 miles of Fairborn, OH. A 2-D work may be oil, acrylic, pastel, watercolor, print, drawing, mixed media, or photography. A 2-D art may not exceed 30 x 40 inches. 3-D art, less than 60 lbs. in weight. 3-D sculpture, must fit through a standard doorway.
All entries will be received at the Fairborn Art Association Gallery, 221 North Central Avenue, Fairborn, OH (in the rear of the building) on Saturday June 24 and Sunday, June 25, from 1:00–3:00 pm.
A non-refundable entry fee of $25 for a total of 3 works must accompany all entry forms. Artwork may be offered for sale by the artist; 20% of each sale will be taken as a donation to B-W Greenway Community Land Trust.
The judge for Landscapes2023 is Remy Groh. Remy is currently an Elementary Art Teacher at Fairborn Intermediate School. She earned Bachelor's degrees in Art Education and Fine Arts from Miami University. Groh's favorite art medium is painting and creates works that are conceptual and abstract.
The Opening Reception will be held at the Fairborn Art Gallery on Sunday, July 9, from 1:00–3:00 pm. The art will be on display at the Fairborn Art Association Gallery and open to the public on July 9, 16 and 23.
For additional information visit the B-W Greenway webpage: www.bwgreenway.org or contact co-chairs: Pat Higgins at [email protected] or Karen Nagafuchi at [email protected] .
REMINDERS
Our next meeting will be on March 7. The deadline for submitting articles to be included in the March Newsletter is Monday, February 13, 2023. Please email your articles to April Coppess.
Please note that, for privacy reasons, the Fairborn Art Association will not post personal email addresses or phone numbers in the newsletters or on our website unless we have the respective member's permission. Consult your FAA Directory for contact information for members. For non-members, we will provide the contact information we are given for them.