PRESIDENT'S MESSAGE
Hello Fellow Artists!
Spring has sprung and what a variety of weather we've experienced: thunderstorms, summer temperatures, and even some sleet and snow flurries! Right now, I am looking through my window and enjoying the beautiful pink apple blossoms that are continuing to bloom despite the fact that the tree is dying. I know there is message I need to learn from this. Could it be that there is beauty in everything, if we just look hard enough, or that I can strive to be positive in the midst of negativity, or maybe it's just that I should make the most of any opportunity, no matter how dire it appears. I hope all of you are blooming despite your circumstances and making a positive influence on the world and those around you.
This month we have our Workshop with Keiko Tanabe, who will also be the demo artist for our May 2 meeting at 7:00 pm and the judge for our Members' Fine Art Show. This is always an exciting time for FAA and I am anxious to see everyone's entries. We will also be voting on the slate of officers for 2023–2024 at this month's meeting.
Our June 6 meeting will be our end of the year social beginning at 6:30 pm. FAA will provide hot dogs, buns, toppings, drinks, and paper products, and we would like the rest of you to provide side dishes and desserts. This will also be our People's Choice show, the installation of officers, introduction of scholarship winners and the Sweet Corn Festival King and Queen, so be sure and mark it on your calendars.
Speaking of the Sweet Corn Festival, it will be here before we know it so please sign up to volunteer. See either Warren Brown or Roger Browning, who is in charge of the Watermelon Booth. Many hands are needed to make this a success so please help mark Thursday, August 17 through Sunday, August 20 to help. FAA is such a wonderful organization and the monies we make at this event help make it possible to provide many of the benefits we enjoy. Also, if you feel led to champion this cause, please contact us, as Warren is more than ready to give up the reins.
You've all received your membership reminders from Debbie Cosenza so please fill out your membership forms and return them with your dues to the gallery or Debbie. Thank you!
I believe that is all for this month so enjoy the nice weather and keep creating!
Linda Brandenburg, President
FAA DEMO ARTISTS AND WORKSHOPS 2023
May 2 Keiko Tanabe, watercolor (Workshop May 1–3)
June 6 Social (Begins at 6:30 pm)
July No meeting
August No meeting
September 5 Catherine Bishop Green, watercolor
October 3 Alicia Ferris, watercolor (Workshop TBD)
November 7 Sarah Maxwell, watercolor
December 5 Christmas Party
MAY'S FEATURED ARTIST – KEIKO TANABE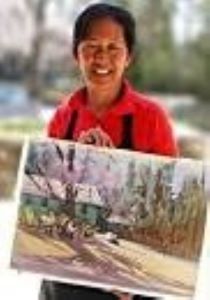 Fairborn Art Association is delighted to welcome Keiko Tanabe for our May demo and workshop. Keiko was born in Kyoto, Japan. As a child growing up in an art-loving family, she always enjoyed drawing and painting and won many awards in children's art contests. However, art was not her chosen field of study later on. She earned a B.A. in intercultural communication (International Christian University, Tokyo, Japan) and an M.A. in international education (UCLA, California). She then worked in international relations positions in a Japanese government trade organization in Tokyo, at a large law firm in San Francisco and at a private consulting firm in San Diego. For decades, she has traveled extensively, mainly in European countries, Asia and North America.
Through all these years, Keiko knew there was in her heart the growing desire to someday become an artist. That, fueled by her love of travel and strong interest in other cultures, eventually found its way out in 2003. After learning basic drawing and watercolor painting skills at a local community school in San Diego, she took on her first project as an artist together with her father, a renowned scholar of French literature in Japan. Through the Azure Sea and Sky of Provence: A Tribute to Her Joie de Vivre (Kosei Publishing, Osaka, Japan) was published in August, 2003, authored by her father and illustrated by Keiko. From then on, she intensely taught herself to be fluent in watercolor painting, just as one would do to master a foreign language.
Mostly self-taught, Keiko embarked on a professional art career in 2005 and started exhibiting publicly. In the same year she took a workshop from Alvaro Castagnet and discovered the joy of plein-air painting. Since that year her paintings have been juried into many exhibitions across Americas and in Asia and Europe. Her work has been purchased by private and corporate collectors from all around the world. She also had her paintings published in leading art magazines in the U.S., Europe and Japan. Additionally, she self-publishes her art books and nine books have been completed to date. She's also a sought-after workshop instructor. Since 2011, she has been invited to and completed successfully more than 400 workshops and numerous live demonstrations around the world. She has served as a juror in a number of art exhibitions including some major watercolor shows around the world such as the Transparent Watercolor Society of America, the International Watercolour Masters, the Northwest Watercolor Society, the Utah Watercolor Society and the New Mexico Watercolor Society. In 2015 she was named an official Ambassador for Winsor & Newton. In 2018, she was appointed to the advisory board of the American Watercolor Weekly. In 2018 and 2019, she was invited to be a faculty member for the Plein Air Convention & Expo, the world's largest plein-air painting event. Keiko currently lives in San Diego, California.
FAA PRESENTS THE 2023 MEMBERS' FINE ART SHOW
FAA is pleased to present the 2023 Members' Fine Art Show. Our juror for the show is Keiko Tanabe. Awards include Best of Show (Sandy Kinnamon Memorial Award), First Place (Joan McCoy Memorial Award), Second and Third Place, Honorable Mention and Judge's Merit and will be given out at the May 2 FAA meeting.
The Gallery hours for this show are on Sundays May 7, 14 and 21, 2023, from 1:00–4:00 pm. Please invite your friends and family to come see the show and hopefully find a piece of art they would like to hang in their home or office.
The show will conclude with the People's Choice Awards at our June 6, 2023, meeting. Artists must pick up their artwork on Tuesday, June 6, after the FAA meeting or on Thursday, June 8 from 10:00 am–1:00 pm.
If you signed up to sit with the FAA gallery, please bring only food/drink for yourself because we will not furnish anything for the guests due to COVID-19. We will assign one person in your group to have access to the gallery so you can get in and lock up when you leave. Feel free to bring your artwork to work on while you are there.
If you have questions, contact Connie Gifford at [email protected] or (937) 270-7359 or Carol Edsall at [email protected] .
ELECTION OF OFFICERS FOR 2023–2024
We will be voting for Officers of the Fairborn Art Association at our May 2, 2023 meeting. The slate presented by our Nominating Committee is as follows:
President – Linda Brandenburg
Vice President – Carol Edsall
Recording Secretary – Sheryl Scott
Corresponding Secretary – April Coppess
Treasurer – Roger Browning
If anyone wishes to run for one of the above offices or if you wish to nominate someone else for one of the offices, please contact Carol Collett prior to our May 2, 2023, meeting so a ballot with that name can be prepared. If no one else chooses to run, the election will be held by voice vote.
FAA MEMBERSHIP RENEWAL FOR 2023–2024
Annual dues are due prior to June 1 (or the meeting in June) to be included in the FAA Membership Directory. Membership forms are available in the Gallery and on the FAA website Home page under Forms.
SWEET CORN FESTIVAL VOLUNTEERS NEEDED
Sign-up sheets for volunteer positions for the Sweet Corn Festival are available in the Gallery and on the FAA website Home page under Forms.
DEBBIE COSENZA EXHIBIT AT LOFINO PLAZA IN MAY
Debbie Cosenza, along with her friend Brenda Holtzman, will be exhibiting at the Beavercreek Lofino Art Gallery the month of May 2023. Debbie's pieces are mixed media with Encaustic and Brenda's are cyanotypes. There will be an artist reception on Wednesday, May 3, 2023, 3:00–5:00 pm. The Gallery at Lofino Plaza is located inside the Beavercreek Senior Center, 3868 Dayton Xenia Road, Beavercreek, OH 45432. The Gallery hours are 9:00 am to 7:00 pm Monday through Thursday, 9:00 am to 4:00 pm Fridays and 9:00 am to Noon Saturdays.
…Submitted by Debbie Cosenza
LIBBY RUDOLF ART SHOW AT THE WINDS CAFE
Libby Rudolf will have a solo art show of her watercolors "Libby Rudolf: Woods and Water" at the Winds Cafe in Yellow Springs from May 9 – July 2, 2023. Please come to the Artist Reception on Sunday, May 21, 4:00–6:00 pm! You may also see the show while dining at the Winds or just come respectfully stroll around when it's open. They are open for dinner Tuesdays–Saturdays and lunch Fridays and Saturdays. I'll join you if I'm available when you come to visit.
…Submitted by Libby Rudolf
VILLAGE ARTISANS HOSTS 39TH ANNUAL ART ON THE LAWN
Village Artisans will be hosting the 39th annual Art on the Lawn, Saturday, August 12 from 10:00 am to 5:00 pm. This juried Fine Arts and Crafts Festival will be held at Mills Lawn Elementary School in Yellow Springs, Ohio. Additional information and application can be found on their website: https://www.villageartisans.org
REMINDERS
Our next meeting will be on June 6. The deadline for submitting articles to be included in the June Newsletter is Monday, May 15, 2023. Please email your articles to April Coppess.
Please note that, for privacy reasons, the Fairborn Art Association will not post personal email addresses or phone numbers in the newsletters or on our website unless we have the respective member's permission. Consult your FAA Directory for contact information for members. For non-members, we will provide the contact information we are given for them.