CAROL EDSALL EXHIBITS AT LATHREM SENIOR CENTER
Local Dayton area watercolor artist Carol Edsall will be displaying her paintings at the Kettering Lathrem Senior Center in the months of July and August. She is known for her serene landscapes and her depiction of animals, some of which were inspired by visits to our great zoos. She has shown her works in various local juried shows, and her paintings are in private collections in Dayton, Kettering, Columbus and upstate New York. The Lathrem Senior Center is located at 2900 Glengarry Drive in Kettering, Ohio.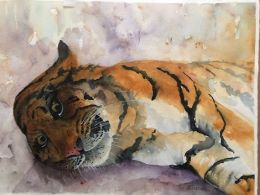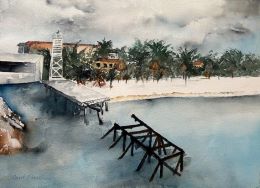 …Submitted by Carol Edsall
JAMES GIFFORD WINS AWARD
A Gifford won an honorable mention for art work at the annual B-W Greenway show and awards. But, a big surprise for me, it wasn't Connie Anderkin Gifford this time, it was me. I photographed flowers at one of the B-W Greenway tracts in Fairborn, mounted the print on a pine board, and using a scroll saw cut it in the shape of Ohio.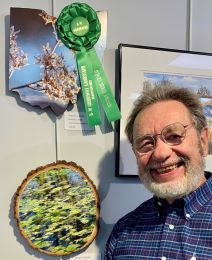 …Submitted by James M. Gifford
MIAMISBURG ART GALLERY 2023 JURIED ART EXHIBITION – CALL FOR ARTISTS
Miamisburg Art Gallery at 16 N. Main St. in Miamisburg, Ohio, will present their 2023 Juried Art Exhibition August 5 – September 9. Early Bird registration ends July 18. For details and registration form, visit their website at: https://miamisburgartgallery.com
39TH ANNUAL ART ON THE LAWN
Village Artisans will be hosting the 39th Annual Art on the Lawn, Saturday, August 12 from 10:00 am to 5:00 pm. This juried Fine Arts and Crafts Festival will be held at Mills Lawn Elementary School in Yellow Springs, Ohio. The last day to apply is July 31 unless the show is full prior to that date. Additional information and application can be found on their website: https://www.villageartisans.org
PIQUA FINE ART EXHIBITION REGISTRATION DEADLINE
The registration deadline for the 31st Annual Piqua Fine Art Exhibition is Friday, August 18, 2023, with artwork drop off on Saturday, August 26 and Monday, August 28. Works of art include drawing, oil and acrylics, water media, photography, three-dimensional and miscellaneous. For more information, visit their website at: https://piquaartscouncil.org/art-show